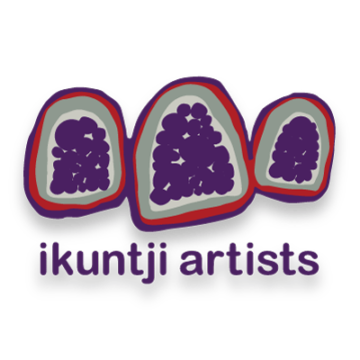 Ikuntji Artists
Ikuntji Artists was the first art centre established by women in the Western Desert Art Movement. Already in the 1980s women began painting in Haasts Bluff at the aged care facility. They had been instructed by their husbands and fathers, who often assisted them in completing their paintings. By the early 1990s these women artists decided to pursue setting up their own art centre.
Ikuntji Artists was first established in 1992 after a series of workshops, and under the influence of the then community president, the late Esther Jugadai. The art centre was initially set up to fulfil the role of women's centre providing services such as catering for old people and children in the community. After first experiences made in printing T-shirts, the artists began producing acrylic paintings on linen and handmade paper, which quickly gained the attention of the Australian and international art world as well as earning the centre an impressive reputation for fine art. The focus changed from a women's centre to an art centre in 2005 with the incorporation of the art centre as Ikuntji Artists Aboriginal Corporation.
Today Ikuntji Artists is represented in many national and international galleries and institutions. Their art is famous for bold colour choice, decisive brush strokes and a long legacy of internationally renowned artists.
Our Artists
Policies
Shipping policy
Freight and Handling Costs
Please note that our artwork and fabric prices include domestic shipping only.
For International orders, shipping costs will be charged in addition and separately after your order is placed.
International shipping will incur an extra cost (please note this may vary if a large amount of products are ordered)
Paintings / Prints : $40 extra
Fabrics $11 extra.
Our prices are inclusive of freight costs and also handling. As a remote art centre staff have to drive 230 km's to the closest post office / courier office and also take great care in packing items properly to ensure a safe delivery. If purchasing more than one item, we may be able to ship them together for a reduced fee, though this is not always possible. All paintings are shipped unstretched, with the exception of some 30x30cm (or smaller) paintings. Pre-stretched paintings are shipped in a separate package, pre-stretching must be pre-organised and paid for.
Insurance and Delivery
Please note that due to Covid-19, freight times may take longer than usual and we endeavour to send everything within 14 days.
Please clearly nominate a delivery address, phone number and name for your delivery.
Paintings and prints are posted using Startrack or Australia Post and other items are posted with Australia Post unless other delivery arrangements are made with the art centre. You will receive an email with your tracking number and order details once it has been posted.
Haasts Bluff has an outgoing mail service once a week, however, this has become increasingly unreliable over the last few years. Every effort is made to dispatch artworks as quickly as possible, but specific delivery times cannot be guaranteed. Please keep in mind that you are purchasing something from a remote community. Minimum delivery time is one week after the item has been posted.
The nearest courier service is 230kms away in Alice Springs and entails additional costs. If you require the article in a hurry please notify us and we will do our best to try to process the parcel quickly.
Refund policy
Ikuntji Artists does not offer refunds or returns for change of mind. Once an order is placed, it cannot be modified or cancelled. Please take this into consideration when purchasing items. Please also note that for handmade items such as fabrics and t-shirts, slight variations should be expected. Much care and time is taken when arranging photographs of artworks for the website and we do our best to assure that they are true to colour and form. Ikuntji Artists are not responsible for misrepresentations of images on personal devices.
Please be aware when purchasing clothing, we do not offer a refund for change of mind. As we and our manufacturing partners, Publisher Textiles are still ironing out the kinks in production there may be some inconsistencies in details given and the finished product (sizing guides and base fabrics are the main culprits). During this period we are happy to offer a refund or exchange for items that do not match the description given. Once things are running smoothly we will no longer offer refunds and will only be able to offer an exchange or store credit for clothing purchases.
Please also be aware we are not able to offer refunds or reimbursements for postage costs.
Return policy
Darwin Aboriginal Art Fair takes no responsibility for the cancellation, return or exchange of any purchases made at the 2023 online Darwin Aboriginal Art Fair. All cancellations, returns or exchange requests must be directed to the Art Centre/Vendor where the purchase was made.
Darwin Aboriginal Art Fair takes no responsibility for any or items that appeared different to what was depicted on the 2023 online Darwin Aboriginal Art Fair website